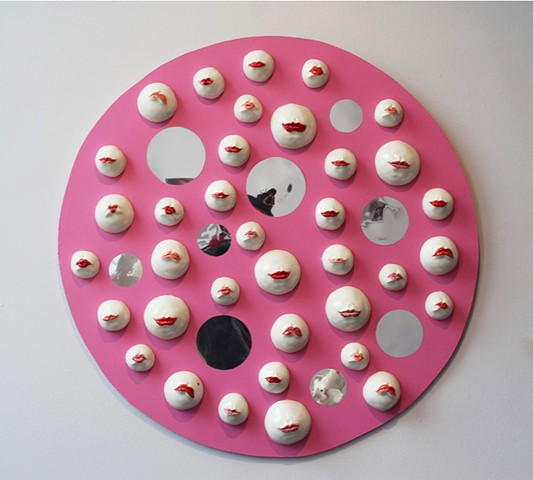 Calladita se ve mas bonita
Ana Sofia Camargo Montenegro, Sculpture II
Slipcast multiples installation
Porcelain, mixed media
40" x 40" x 3"
In hispanic culture there is a popular idiom: "calladita se ve mas bonita," (Quiet you look prettier). A phrase usually said in a passive aggressive tone usually from some figure of higher authority to someone of lesser status, usually in the domestic environment when talking out of place.
This installation consists of semi-spheres that have a pair of lips at the top hung in wall in conglomerates among mirrors against a pink background. The lips of the mouths are shut in pout, rested and tight lips. The shades of red for the lips emphasize the idea of beauty in our contemporary popular
culture. Similarly, the mirrors stress even further the connotation of vanity in this phrase. Moreover, the pink circle emphasizes how the linguistic context of the artwork is a representation of Lynn Peril's concept "pink think,"* which relates to my concept of pinkhood, describing the female gender's associations to the color pink.
Compositionally, the pink circle, and the circular mirrors, enhance the roundness of each mouth piece, while also bringing out the different shades of red of the lips. By making a parallelism between lack of expression and
beauty, I re-interpret the idiom as a depiction of the expected submission of the female gender.
*"a set of ideas and attitudes about what constitutes proper
female behavior."